Exhibition
A presence at the Congress is your organisation's opportunity to leverage five days of unparallel access to a wide potential client base, to inform them about your products and services and build long-term relationships. A Commercial Exhibition will be held during the congress.
Venue
Palau de Congressos de Catalunya – Exhibition Area (Floor 0)
Price of the booth
6sqm (3 x 2m): 2500€ + VAT (21%)

The exhibition space includes:
• Floor space for the booth (shell scheme not included)
• Exhibitor Pass
• Inclusion in the Final Programme of the exhibiting company name and logo.
• Any other possible costs arising from modular booths, such as electricity, furniture, etc. will be billed separately to the exhibiting company.
To see the complete Exhibitors Manual and other sponsorship opportunities, please click here


All work will take place on Level 0 (Exhibition area).
July 5th, 2015 09.00-20:00
The Barceló Congresos exhibitor service desk will be staffed at all times during exhibition setup and during the exhibition times of the Congress.


The exhibition hall will be open to attendees between the hours listed below.

Monday, July 6th: from 09:00 to 19:00
Tuesday, July 7th: from 09:00 to 19:00
Wednesday, July 8th: from 09:00 to 19:00
Thursday, July 9th: from 09:00 to 19:00
Friday, July 10th: from 09:00 to 18:00

July 10th,2015 after the Closing Ceremony

All exhibitors must be packed by 20:00 on Friday, 10th September 2015. At this time all items will be removed from the Exhibition Hall.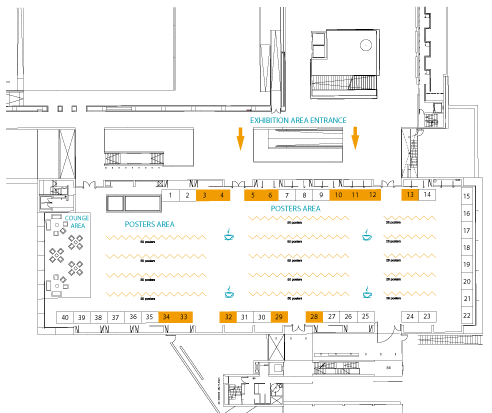 | | | |
| --- | --- | --- |
| | | |
| | | Stand 12: |
| Stand 13: | Stand 28: | |
| Stand 30: | Stand 31: | Stand 32: |
| Stand 33: | Stand 34: | |