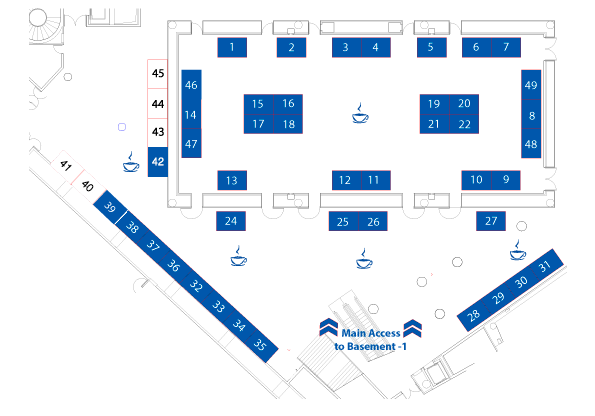 Stand 1:
KBHF/ MATERION

Stand 2:
Enea

Stand 3:
Friatec AG

Stand 4:
CDTI

Stand 5 - 6:
CCFE

Stand 7:
OCEM

Stand 8:
University of Rome Tor Vergata

Stand 9:
AVS

Stand 10:
ITER

Stand 11-12:
Fusion for Energy

Stand 13:
Rolf Kind

Stand 14:
National Instruments

Stand 15:
Agoria-ITER Belgium

Stand 16:
H.T.M.S NV

Stand 17:
Dockweiler

Stand 18:
Oxford Technologies

Stand 19-20-21-22:
Jema

Stand 24:
D-TACQ

Stand 25-26:
INEUSTAR

Stand 27:
Stangenes

Stand 28-29-30:
IK4




Stand 31:
Struck Innovative
Systeme




Stand 32:
National Fusion Research
Institue




Stand 33:
DMP




Stand 34:
Tecnalia

Stand 35:
CEA-IRFM

Stand 36 - 37 - 38:
Dutch Scientific

Stand 39:
Okazaki

Stand 42:
Thermocoax


Stand 46:
ITER Switzerland &
Ampegon

Stand 47:
Research Instruments



Stand 48:
ICEX


Stand 49:
CECOM

SOFT 2014 offers you the opportunity to enhance the visibility of your company by renting a booth located in the heart of the event. Participants will have formal and informal networking activities in and around the booths. The coffee breaks and other social events will take place in this area fully devoted to networking and business

Exhibition Set up

Sunday, September 28th 14.00 - 20.00

Industrial Exhibition
| | |
| --- | --- |
| Monday, September 29th | 09.00 - 18.00 |
| Tuesday, September 30th | 08.30 - 18.00 |
| Wednesday, October 1st | 08.30 - 13.00 |
| Thursday, October 2nd | 08.30 - 18.00 |
| Friday, October 3rd | 08.30 - 12.30 |

Exhibition Dismantling
Friday 3rd October, at the end of the sessions

Regular Rate
Space for 3 x 2m = 6 sqm booth
Price per space = 2100€ + 21% VAT
One full pass included

Special Rate for SME and R&D Centers*
Space for 3 x 2m = 6 sqm booth
Price per space = 1000€ + 21% VAT
One exhibitor pass with access to coffee breaks and Welcome Reception is included

Modular booth consisting of
| | |
| --- | --- |
| - | Modular booth consisting of |
| - | Aluminum structure, Octanorm system. |
| - | Boards in white melamine. |
| - | Height: 248 cm |
| - | Carpet, sticked on the floor with double-sided tape. |
| - | Fascia board, 22cm high, all along the booth. |
| - | Name of the company with standard writing in black vinyl 12cm high, with a maximum of 20 letters by stand. |
| - | Lighting with orientable halogen spotlights (100W per each 2sqm of surface). |
| - | Electricity: 2.200W fuse box (includes one socket) |
| - | One table and one chair. |
Additional exhibitor's passes are available at 200 € per pass.

Payment Terms
| | |
| --- | --- |
| - | 50% of the total amount as a confirmation of the reservation. |
| - | 50% remaining will be paid before June 25th, 2014. If the exhibitor does not comply with these terms, the organizers may cancel the reserved space and rent it to another exhibitor without being obliged to reimburse the deposit. |

Cancellation policy
- From the organizers:
The organizers may modify or cancel the exhibition if unforeseen circumstances occur. In the event of a cancellation, the organizers will reimburse the exhibitor.

- From the exhibitor:
In the event that the exhibitor chooses to withdraw from the conference, the exhibitor must notify the organizers in writing.

- Reimbursement for cancellations:
For cancellations before February 25, 2014 - 100% of the total amount will be reimbursed.
For cancellations after February 25, 201 - No reimbursement will be made.